Craig, cedar is my first choice, over the years I have seen fir stand up for 4-5 years,but cedar will last a lifetime. Stay away from Pressure treated, those chemicals will at the least burn your skin, at the worst shorten your lifespan.
Cedar is cheap compared to the others too, and lighter weight to move around…
Just my experience.
Herb
What herb said…
I like WRC, also white oak but never red oak…
I also like to use poplar and cypress, but cypress is hard to come by here in the great PNW.
I agree with the Cypress,I have read that it has rot resistant properties, but my experience is that the poplar we have here is not rot resistant/bug and since this type of furniture is typically for out door use might not be the best choice.
Herb
I would paint or seal it heavily if I ever use poplar; it's never been my go-to material. I prefer cedar. Thanks, Stick; I do appreciate the PDFs. I will check them out.
the worst enemy of wood outdoor furniture is water absorption (wicking) through the end grain…
super seal it w/ a thinned adhesive before finishing… I find WeldBond is excellent for this… way better than TiteBond…(they're different animals)…
also add glides to the legs to get the wood off of the concrete and give them air exposure so they stay dryer…
long narrow legs may require a pair on each leg… round ones will work too…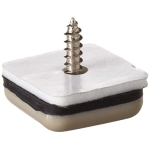 untinted oil base paint is a very good best bet… and it'll dry clear… of course gloss is better than flat for water repellentcy…
be careful not to over-sand the wood… over-sanding closes the the pores of the wood and you want them to stay open to give the finish a chance to to absorb into the wood… 80/100 grit max…the finer the grit, the more the pores close…
1st and 2nd coats, thin the finish by 5~10%… (use the directions on the can for your guide line)…
apply a full strength 3rd coat… if you wish a smooth finish, do final very light sanding w/ progressively finer grits and recoat between coats… take the chair's smoothness to as far as you want…
@Craig …
If you have over sanded your wood and wish to open the pores/grain very lightly spritz the surface w/ water for latex base finishes or mineral spirits for oil base finishes to raise the grain and open the pores…
Note:
always remove the sanding dust before advancing to the next-finer grit sandpaper. The best tool to use is a vacuum because it is the cleanest. The same goes before you apply your finish…
Thanks, I've done that very thing for years, but it's always good to get a reminder every now and then to keep it fresh in my mind.