If this is your first post, welcome to the forum,
LOL never seen anything like that before. If those are 2X4's that bar of soap must be the size of a pound of butter. If you have a 2X6, wack off the end about 2 1/2" long and then take a band saw or scroll saw and lay it end grain up and saw the saw tooth design in both edges.
Not something I would want on my sink, I can envision a big mess before long. Might be OK for a Design Decoration tho, or the kids to play sink the battleship in the tub.
Herb
cut the groves w/ a dado blade or a V bit…
water and soap will conspire against you and because of the grain orientation the dish will split/crack/separate along the grain lines and the points will most likely break off…
you could segment that and just glue up pieces/strips of wood in that configuration…
I suggest WeldBond over TBIII for longer lasting results… WB is worlds different from TB…
sealing that to be waterproof, not just water resistant, will be a 1st concern to you…
do you plan on painting or leaving the wood natural???..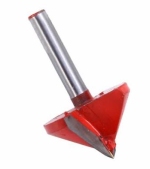 the species of wood you use will matter…
The Better Water Resistant Woods in descending order…
1.Ipe
2.Teak
3.Iroko
4.Cumaru
5.Peroba
6.Merbau
7.Robinia Pseudoacacia
8.Larch
9.Elm
10.Balau
gluing any of these woods will need to be treated as oily tropical woods…
Gluing Oily Tropical Hardwoods II.pdf (49.6 KB)
Thanks. Ok got it. I was going to use WRC unfinished.
the leached resins from the WRC will more than likely stain the sink and/or countertop…
over time expect the WRC to turn any wheres from a light silver grey to a darker grey or a blotchy grey/black…
Yeah, good point. I saw that someone mentioned that. How about Alaskan Yellow Cedar?
smells like raw potatoes…
very durable… good straight grain
if nothing gets to it and it's left alone it'll just darken…
water exposure will turn it some shade of grey or a blotchy light/dark grey…
wanna go about bullet proof??? use a species from the ironwood family… there are over 150 species to pick from… many are quire beautiful and they can be had as small blocks that may fill the need…
You could make a lot of these quickly by cutting grooves the entire length of a board. (I'd use a table saw set to 45°, 2 cuts per groove. But router with V bit should also work.) Then cross-cut and you'll have lots of soap holders. Unfinished red cedar should be OK. Since they're so easy to make, just toss them when it starts getting bad. I imagine it should last at least a few months. Gift them in sets of 4 and call it a "1 year supply."